Volunteer
So, you want to volunteer for the John Deere Classic? We'd love to have you help out at our 2023 event!
In addition to feeling good about donating your time and efforts to one of the Quad City's biggest events of the year, volunteers also receive a number of perks!
A FREE round of golf at TPC Deere Run ($40 cart fee, non-transferrable)
FREE access to tournament grounds (Wed – Sun) using Volunteer badge
FREE lunch each day you work at the tournament
Volunteers eligible for prizes drawn randomly all week of tournament
If you have a large group interested in helping out at the tournament, please reach out to the Tournament Office via email: volunteers@jdclassic.com.
Registration is open now – Click here to register!
Learn about each committee that you could potentially work for. Each committee requires that volunteers work at least 2 or 3 shifts (depending on the committee). Please contact the John Deere Classic office with any questions regarding volunteering.  We look forward to having you join us at the John Deere Classic!
This year Uniform Distribution will take place at the Bend XPO Center on the dates of June 19 and June 20 (times TBD).
Volunteers who register after Uniform Distribution, your shirt pick up options are below. Exchanges will also be accepted at the locations and dates below.
June 19th: Noon – 6 PM
June 20th: 10 AM – 4 PM
Last Chance Pick Up – TPC Deere Run Main Entrance, Sunday, July 2nd: 10 AM – 2 PM
The Credentials Trailer starting Wednesday, July 5th located near the Clubhouse
2023 Shirt & Hat Prices/Sizes
Volunteer Shirt: $27 each
Ball Cap: $15 each
Floppy Hat: $15 each
Straw Hat: $20 each
Visor: $15 each
Ladies Size Chart – TBD
Mens Size Chart – TBD
2023 Floppy Hat: There are 2 sizes (Medium & Large) – while supplies last
2023 Ball Cap, Straw Hat & Visor:  One size fits all – while supplies last
For Volunteers:
Ladies Sizes – S, M, L, XL, 2XL
Gentlemen's Sizes – S, M, L, XL, 2XL, 3XL, 4XL
2023 Uniform Details
Every volunteer must purchase their own Official John Deere Classic Volunteer shirt(s).
With your purchased volunteer uniform, please wear your own solid color bottoms. Shorts, skorts, or pants are allowed.
Please refrain from wearing denim, cargo pants, or cargo shorts at TPC Deere Run.
Only the new John Deere Classic logo may be worn on any article of clothing.
If you wear golf shoes, they MUST have soft spikes.
Volunteers are required to wear their volunteer shirt and display their volunteer badge on any day they are working.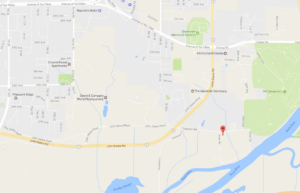 Volunteer Parking will be located near the #2 Green at TPC Deere Run where Coaltown Road meets River Road in East Moline. Please click here for map.
ACT II Transportation Coach Buses will take you directly to the new Bus Stop located on TPC Deere Run's main driveway near the John Deere Equipment display area, just east of the 9th Green.  This  Bus Stop will also be the location where you will board a bus at the end of your work day to return to the Volunteer Parking Lot.  For your safety, when exiting the Bus Stop or approaching the Bus Stop, please stay off the TPC Deere Run Main Driveway, and follow the gates in or out of the Bus Stop area.  The 9/10 Crosswalk will be the safest location for you to cross the main driveway. All volunteers will be required to go through a metal detection at the Volunteer Parking lot.
Some volunteers may choose to walk in at the security checkpoint near the #2 Green. No patrons will be admitted at this security checkpoint, only volunteers. If you park anywhere else you will be responsible for any parking fees and you be dropped off at the main gate.
Please click the link below to see the shuttle schedule for volunteers. Drop off & Return Point is the Bus Stop located on the TPC Deere Run main driveway near the John Deere Equipment Display and the 9th fairway.
Volunteer Shuttle Schedule
We are thrilled to be bringing back the Volunteer Appreciation Dinner. The event will take place Monday, June 26th at the Waterfront Convention Center in Bettendorf, IA. We will have live music, buffet-style dinner and host beverages for our volunteers and a guest. We do ask that you RSVP for the event (starting May 1)so that we know how many to expect. A $1,000 shopping spree to Expression Jewelers will be raffled off and we will be able to recognize our Volunteer Award Winners.
VOLUNTEER APPRECIATION DINNER
Monday, June 26th at 6 PM
Waterfront Convention Center, Bettendorf, IA
Sponsored by Smart Lexus of Quad Cities & Expressions Jewelers
RSVP Here