Remembering Payne Stewart's maiden victory at the John Deere Classic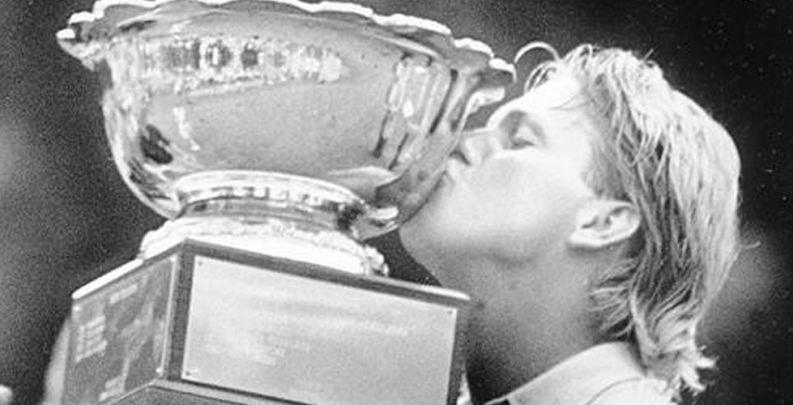 This story originally was published in the June edition of Chicago District Golfer magazine.
By Craig DeVreize
On a July Sunday in 1982, a cheeky Missourian named Payne Stewart donned a Hogan cap and a pair of lavender-colored plus-fours, raced around a rain-softened Oakwood Country Club in 63 shots and won the Miller High Life Quad Cities Open in style.
Stewart wasn't yet the swashbuckling superstar he would become while adding 10 more PGA Tour wins over the next 17 years, including three majors. The signature old-school cap and knickers he debuted in the Quad Cities would refine his image, and the 1989 PGA Championship at Kemper Lakes near Chicago and two U.S. Opens after would define his career.
Over the past 50 years, the Quad Cities' PGA Tour event, sponsored since 1998 by Moline, Illinois-based John Deere, has rightfully earned a reputation as a launching pad for future stars. Jordan Spieth, Bryson DeChambeau, David Toms, Scott Hoch and Roger Maltbie all have stood inside the small-town tournament's circle of first-time Tour winners.
Yet, of the 21 players who scored their maiden wins in the Quad Cities, only the late, great Stewart has a plaque in the World Golf Hall of Fame.
Forty years later, Stewart's breakthrough victory that Sunday at Oakwood still resonates with Illinois golf fans. Until his untimely death in an airplane crash in October of 1999, that win had equal resonance for Stewart.
He often called it the most special of his 11 victories, major championships notwithstanding. That is because it was the only of his son's Tour wins Bill Stewart witnessed in person before he died young from cancer in 1985.
"It was always a very special win for him," Stewart's widow, Tracey, shared recently. "Quad Cities was his first official win, and then having his mom and dad there made it much more special for him. And then, it being the first tournament where he wore the knickers all four days and he ended up winning, it was just sort of meant to be."
Having won wearing knickers, Stewart never again took them off come tournament time.
D.A. Weibring, who recorded his first Tour victory at Oakwood in 1979 and then won twice more just up the river from his hometown of Quincy, Illinois, remembered Stewart's famous signature look being a topic of conversation prior to the 1982 Quad Cities Open.
"What I remember about Payne here is him saying 'I don't want to look like everybody else, blond, with a visor,' and that's where he started wearing the knickers," remembered Weibring. "Payne almost got to the point where he looked funny in pants."
Stewart later signed a lucrative licensing agreement to wear the National Football League (NFL) emblem and various team colors on the golf course, and on Sundays made a habit of wearing the colors of the NFL team closest to where he was playing.
That, of course, meant he was sporting the navy blue and burnt orange of the Chicago Bears when he birdied four of his final five holes at Kemper Lakes to win the first of his three major championships in northwest suburban Kildeer.
Before his major wins, though, Stewart endured a series of minor hiccups. In 1983, he added the Walt Disney World Classic near his adopted hometown of Orlando, Florida, for his second official win, but didn't win again until 1987. In between were a number of frustrating near misses, including three playoff losses. That frustrating run earned him the unwelcome nickname of "Avis," a wordplay on the rental car company whose advertising slogan was, "When you're No. 2, you try harder."
Ironic, then, that he ended his four-year wait for that third Tour win at the Hertz Bay Hill Classic in '87, again in Orlando.
It was his PGA Championship victory at Kemper Lakes that lifted Stewart's stature in the game from that of a well-dressed, charismatic, star-struck competitor to that of a major player. That stature was solidified when he won his first U.S. Open in an 18-hole Monday playoff over Scott Simpson at Hazeltine Golf Club near Minneapolis in 1991.
Majors were no minor matter to Stewart. Although he returned to defend in the Quad Cities in 1983, Stewart did so reluctantly. The tournament was the same week as the British Open, where he would have preferred to play. From 1974 through 1989, the QC tournament was played directly opposite the Open Championship, making Stewart one of the many stars who normally bypassed the smaller affair. He finished T-7 in '83 when Danny Edwards won.
Stewart returnedto the Quad Cities for a 1987 pre-tournament exhibition, where he played with Greg Norman and Bob Tway. He later contended in two September Hardee's Golf Classics at Oakwood in the early 90s. In 1993, he shared runner-up status with Weibring behind runaway winner David Frost.
In June of 1999, Payne Stewart birdied the 72nd hole of the U.S. Open at Pinehurst No. 2 to edge a young Phil Mickelson for what would be the last win of his career.
In late October of that same year, the 42-year-old golfer boarded a Learjet bound for Dallas. The National Transportation Safety Board ultimately determined the plane failed to pressurize on takeoff. Stewart and five others on the plane died of hypoxia within minutes. The jet flew on autopilot until it ran out of fuel and crashed in a field near Mina, South Dakota.
In her book, "Payne Stewart: The Authorized Biography," Tracey Stewart shared a now eternal connection between Payne Stewart and the Quad Cities tournament: the colorful and still charismatic golfer was not wearing his trademark knickers and Hogan cap when that plane went down, but was wearing a Rolex watch with the inscription: "1982 Quad Cities Open Champion."
Time passes. Memories remain.
---
Craig DeVrieze covered the John Deere Classic and its predecessors for 37 years. He is the author of, "Magic Happened: Celebrating Fifty Years of the John Deere Classic."