John Deere Classic Announces First 2022 Sponsor Exemption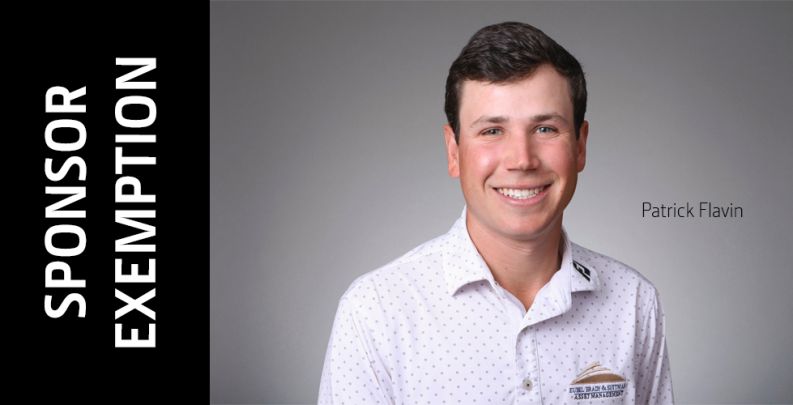 Patrick Flavin of Highwood, Ill. Receives His First Invitation to the John Deere Classic
The John Deere Classic today announced that former Miami of Ohio star and budding "Monday qualifying" legend Patrick Flavin of Highwood, Illinois has received a sponsor exemption to play in this year's tournament, June 29-July 3, at TPC Deere Run.
This season, Flavin, 26, has successfully Monday-qualified for three PGA Tour events – the Bermuda Championship, the Puerto Rico Open and this week's Mexico Open. Additionally, he just missed Monday-qualifying into the Waste Management Open in Phoenix and the Valspar Championship in Tampa Bay, losing in playoffs.
In the actual tournaments, Flavin finished T-17 in Bermuda and T-22 in Puerto Rico; additionally, he finished T-54 at the Corales Puntacana Championship in the Dominican Republic, playing on a sponsor's exemption.
"The John Deere Classic is pleased to announce Patrick Flavin as our first sponsor exemption for the 2022 tournament," said tournament executive director Clair Peterson. "Patrick's performance at Monday qualifiers this season, in addition to his strong college career and Midwestern roots, compelled us to award him a spot in our field this year."
Monday qualifiers are a notoriously competitive sub-genre of the PGA Tour. On the Monday before each tournament, between 75-120 elite players – many of them current or former PGA Tour members – compete for four spots in the event. For context, former Masters champion Patrick Reed was known as "Mr. Monday" when he successfully Monday-qualified six times in 2012.
Based on Flavin's finishes at Bermuda, Puerto Rico and Punta Cana, Flavin has accumulated 76 FedExCup (FEC) points to date and would need 287 to qualify for Special Temporary Membership on the PGA Tour, which would allow him to accept unlimited exemptions.
More relevant to Flavin is that to qualify for the Korn Ferry (KFT) Finals, he must have accumulated at least as many points as the No. 200-ranked player on this year's FEC points list. While that number is a moving target, based on past experience, Flavin estimates he needs 100 points to be safe. Last year, for example, according to PGA Tour officials, Chris Baker was No. 200 with 93.863 points; in 2019 the No. 200 player had 94.79 points; in 2018 No. 200 had 73.7 points. Depending on how he plays, he could get to 100 points in the Quad Cities.
Just before returning for his senior year in college in 2017, Flavin won both the Illinois State Amateur and Illinois Open, one of only two players in history to do so. He attended Highland Park High School in Highland Park, Illinois.
Over the years, John Deere Classic sponsor exemptions have enjoyed success on the PGA Tour, including 2009 U.S. Open champion and 2021 John Deere Classic winner Lucas Glover (2002), 2020 U.S. Open winner and 2017 JDC champion Bryson DeChambeau (2015), two-time JDC champion (2013, 2015) and three-time major champion Jordan Spieth (2012), 2017 PGA Championship winner Justin Thomas (2013), 2021 U.S. Open winner Jon Rahm (2016), 2015 PGA Champion Jason Day (2006), 2018 Masters champion Patrick Reed (2012), 2007 Masters and 2015 British Open champion Zach Johnson (2002-03) and 2012 U.S. Open champion Webb Simpson (2008).
"Starting some 20 years ago, the John Deere Classic adopted a philosophy that we would provide up-and-coming young players with the opportunity to prove themselves against the best in the world and to give our loyal fans a chance to get a look at them early in their careers," said Peterson. "With players like Zach Johnson, Jordan Spieth, Jason Day, Justin Thomas and Patrick Reed having gone on to stardom, we think it has worked out very well for both the players and our fans."
---
The John Deere Classic, which includes Birdies for Charity, is a 501(C)3 non-profit organization located in the John Deere Classic tournament offices at 15623 Coaltown Road, East Moline, Illinois. Since its founding in 1971, the tournament has helped raise $145.66 million for charity, 98 percent of which has been raised since John Deere assumed title sponsorship in 1998.