2022 John Deere Classic Helps Raise a Record $13.9 Million for Charity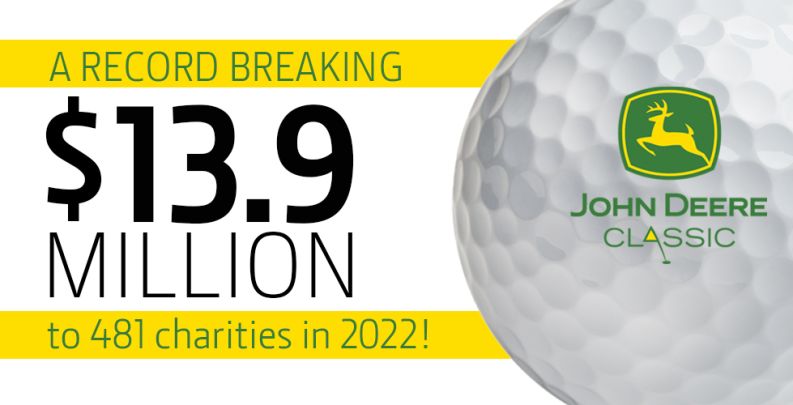 Smart Lexus of Quad Cities Donates 2-Year Lease to a Lucky Winner
The 2022 John Deere Classic helped raise a record $13,908,668 million via its Birdies for Charity program and will pay a 7% bonus to its 481 participating charities, tournament officials announced Monday at the John Deere Pavilion in downtown Moline.
This year's total exceeds by $89,514 the previous record of $13,819,154, which was set in 2019.
The total number of charity dollars raised by the tournament since it was founded in 1971 is $159.57 million, more than 98 percent of which has been raised since John Deere assumed title sponsorship in 1998.
"The John Deere Classic is thrilled not only to announce a charity total of just under $14 million but also that Birdies for Charity will pay a 7% bonus to our 481 participating charities," said executive director Clair Peterson.
"As always, we are thankful to our fans, John Deere, other corporate partners and local family foundations for their ongoing generosity and support of Birdies for Charity," Peterson said. "John Deere takes pride in its unique position as a civic leader and nowhere is that leadership more apparent than in its support of our charity initiatives.
Meanwhile, the annual contest for a donor to guess the exact number of birdies recorded at the tournament and win a two-year lease on a car from the Grand Prize Sponsor, Smart Lexus of Quad Cities, produced five finalists, who correctly guessed 2,041 birdies. One of the five will be selected randomly on Monday to win a two-year lease on a Lexus RX350. The Official Transportation Sponsor of the John Deere Classic, Smart Lexus of Quad Cities annually provides courtesy cars to John Deere Classic contestants.
The $13.9 million total works out to approximately $37 for each of the Quad Cities' 375,000 residents, again making the John Deere Classic the No. 1 in per capita contributions on the regular PGA TOUR, a distinction it has held for more than a decade.
The total amount donated to the charities is the result of a three-pronged fundraising effort:
The tournament's Birdies for Charity program enables individuals, companies, and foundations to pledge a lump sum donation to a charity or charities of their choice.
Because John Deere underwrites the administrative costs of the Birdies program, 100 percent of each Birdies pledge collected goes directly to the designated charities to be used at their organization. They pay no administrative costs to Birdies for Charity.
The Bonus Fund consists of tournament revenues, direct donations, a John Deere matching grant, as well as proceeds from special events.
J.T. Poston, 29, posted a 3-shot wire-to-wire victory at the 2022 John Deere Classic, shooting 21-under par for his second PGA Tour win. He is expected to defend his title July 3-9, 2023.
---
The John Deere Classic, which includes Birdies for Charity, is a 501(c)3 non-profit organization located in the John Deere Classic tournament offices at 15623 Coaltown Road, East Moline, Illinois. Since 1971, the tournament has helped raise $159.57 million for charity.